We celebrated Arbor Day by thirty Ponderosa Pines. Okay, I was hanging out laundry and cleaning out a shed - but my Sweetie and Little Sweetie planted trees! It was her first tree planting experience - she did a great job!
We get the trees from the state Forest Service. They offer quite a few varieties, but we've had the most success with Ponderosa Pine, Junipers and Locusts. We have a few other varieties we've planted, and there are some shrubby plants that do well too (Quailbush, Sand Cherry, Wild Roses) but the Ponderosas seem to really like it here. When you get the trees from the Forest Service, they are 'limited use'. You can't use them (or sell them to other people) for landscaping, for example. We use ours for wind protection and wildlife habitat.
We put polymer crystals in the soil around our baby trees. Polymer crystals absorb a great deal of water and make it available to the roots of the trees. They also ease the shock of transplant and help the trees cope with our semi-arid climate. Dry, the crystals are a little bigger than coarse sand, but once they absorb water they are pretty big...and squishy...and fun to play with!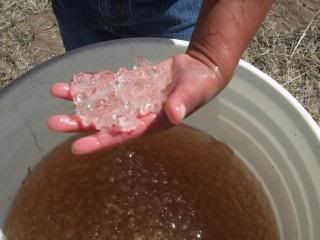 This is a standard potted stock tree from the forest service. Sure, it looks like a bottle brush with a little root 'handle' but we've had a lot of success with the potted stock. We have some of these 'bottle brushes' that have grown to be close to 15 feet tall!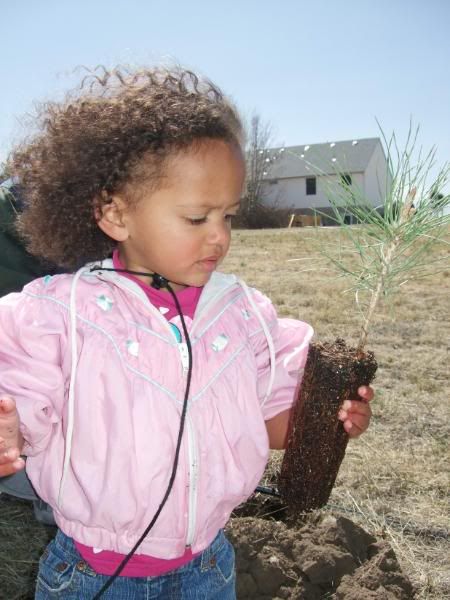 Into the ground, little tree! We plant them in a slight depression, to keep water from running away from the tree. We don't get much rain, so we don't worry about the tree getting overly wet.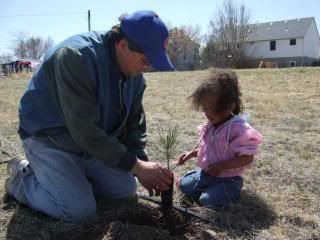 Ready....Set.....GROW! Let's see which of them grows faster!